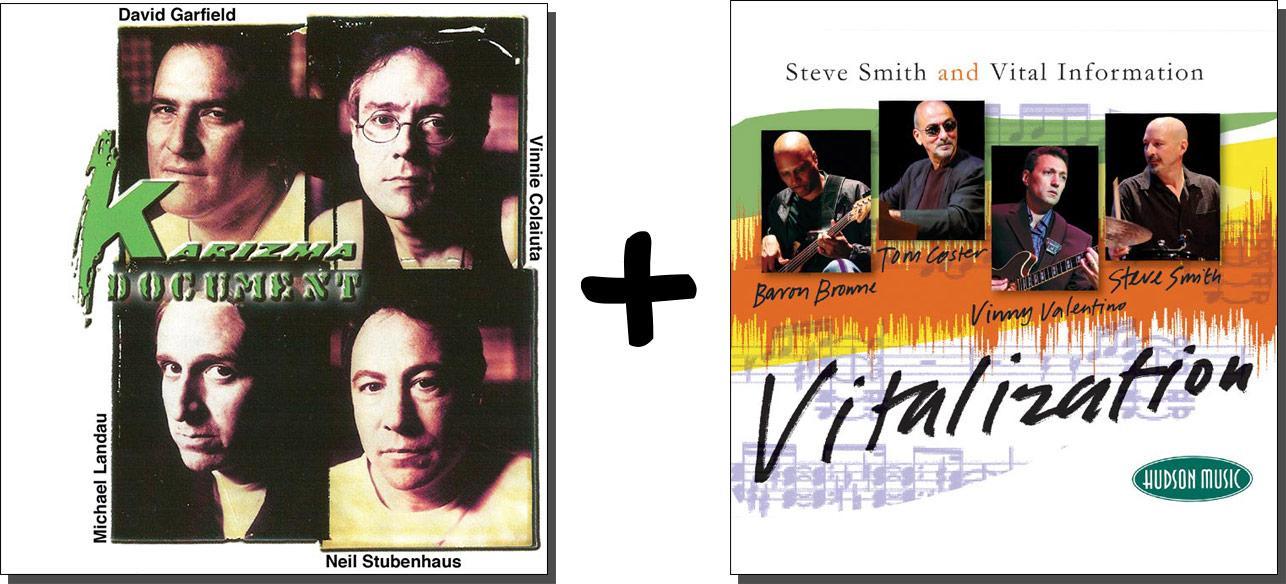 Karizma/Vital Information CD Bundle
Warehouse Find - Limited Stock Available!
Warehouse Find: Two incredible albums featuring super drummers Vinnie Colaiuta and Steve Smith, in one awesome package bundle! When this inventory is gone, these items will be unavailable as these titles are now out of print.
Please Note: This package includes 2 Audio Compact Discs. This is a physical product that will be shipped to you.
Karizma: Document
Featuring Vinnie Colaiuta, David Garfield, Neil Stubenhaus and Mike Landau.
Recorded live on tour in Europe, this CD captures the fiery creativity of a truly great band and demonstrates why each of these musicians holds a place among the most in-demand players in the world.
Every song features soloing and ensemble playing of the very highest order and includes come of Vinnie's most explosive performances. E Minor Shuffle is also available on the Modern Drummer Festival 2000 Video and DVD!
Vital Information: Vitalization
12 original compositions define a musical style that ranges from up-tempo blues, straight-ahead jazz and ballads to South Indian-influenced and odd-time grooves, funk and contemporary jazz-rock.
Vital Information's Tom Coster (keyboards – Bill Evans, Billy Cobham and Santana), Baron Browne (bass – Gary Burton, Steps Ahead, Jean-Luc Ponty) and Vinny Valentino (guitar – Randy Brecker, Dennis Chambers, George Benson) join Steve Smith (drummer – Jazz Legacy, Steps Ahead, Burning For Buddy, Journey) for a bold excursion into World Music territory without leaving their American Jazz roots behind.
The CD also features guest percussionists Pete Lockett (England), Gilad (Israel) and Juan Carlos Melion (Spain), who add a variety of authentic, ethnic percussion sounds and flavors to the tracks.