Click Here to download the pdf booklet that was originally included with the Anatomy of a Drum Solo DVD. (pdf download)
The drumming world, and musical world as a whole, lost a giant when Neil Peart passed away on Tuesday, January 7th, 2020. 
Hudson Music shared a long history with Neil, collaborating on two educational DVD/Video projects, Anatomy of a Drum Solo, and Taking Center Stage, as well as the career retrospective book, also titled Taking Center Stage. Prior to these project, Rob Wallis and Paul Siegel collaborated with Neil on the Warner Bros release, A Work in Progress.
Below is a collection of tributes, memories, photos and video from our time with Neil, as well as some memories from fellow drummers.
We hope you enjoy this tribute to our friend, Neil Peart.
---
Integrity. That is what I would say if asked to describe Neil in a word. Luckily, during our 30-year professional and personal relationship, I was able to see how that quality ran like a steel rod through every aspect of his too-short life.
Our relationship started, like many others, with writing a letter — yes, putting a communication in the mail. In the mid-80's, my then-business partner Paul Siegel and I began taking turns writing to Neil several times a year, asking if he'd like to do an educational video. We would always get back a polite response telling us it was not the right time, but to "not give up hope." During that time, we began a relationship with a senior Rush management person, Pegi Cecconi, whose initial role, we came to see, was probably to "feel us out." We would occasionally meet Pegi for lunch or dinner when she was in NYC for Rush label business. And so it went for several years (probably many more than I remember).
While we were reaching out to Neil, Cathy Rich was also writing to him, asking if he'd perform at one of her Scholarship Concert/Tributes to her father, Buddy Rich. And after one of her many letters, he eventually said yes. He had decided that he wanted to try performing with a big band, playing the music of Buddy Rich. This took place on April 8th, 1991, at the Ritz in NYC (the old Studio 54, which became a concert hall). As word got out that Neil would be performing outside of Rush in a small venue, the excitement from the drumming community around the world was near fever pitch.
Cathy brought us on to record the event. Our company at the time, DCI Music Video, hired the Record Plant New York mobile audio recording truck (the first time of many), run by the great Dave Hewitt. The engineer at the board was Sean McClintock, who became our go-to guy and engineered many DCI and Hudson Music sessions. We also put together a top-notch video team. As we ran through video and sound checks that afternoon, I remember hearing that a line of people had formed down 8th Avenue and stretched for several blocks – almost all of them there expressly to see Neil. Many appreciated Neil's effort to play music outside his comfort zone. The show, which also featured drummers Steve Smith, Marvin "Smitty" Smith, Omar Hakim and others, was fantastic. And it was that event that established our relationship with Neil.
In 1994, Neil asked Paul and me to film the recording of a record he was producing for Atlantic Records titled Burning for Buddy. As we found out, Neil meant it literally when he asked us to film it. He didn't want a "crew" in the studio, just Paul and me to run cameras as the sole presence on the video side. We had never done this but, of course, said yes. We bought two small hi-8 video cameras, tripods and some lighting kits, and reported for duty at New York's Power Station Studios every day for 14 straight days/12 hours a day. Each day brought two drummers in, including Steve Gadd, Bill Bruford, Max Roach, Kenny Aronoff, Dave Weckl, David Garibaldi, Ed Shaugnessy and Simon Phillips to name a few. The project featured more than 20 of the biggest drum names in the world. What an experience….
One day, while I was on a business trip to the U.K., Paul called with the news we had been waiting for. Neil sent us a letter and said we "finally wore him down" and that the coming year would be a good time to start on his first educational project. We were overjoyed and thus began our "real" journey with Neil. It was a partnership that he described years later in one of his blog posts as second to his working with Geddy and Alex; needless to say, the first time I saw those words I nearly fell out of my seat.
Over the coming months, we began sending letters back and forth with content ideas and, as Neil later said, the three of us working together was a 1+1+1= 4. He was delighted with the direction things were going as we mapped out the video content. We agreed to film in early 1996 at a studio in upstate New York: Bearsville Studio in Woodstock, where The Band famously recorded the closing scene in The Last Waltz, among many other big records. Neil liked it because he could snowshoe to the studio each morning from his cabin on the property. We went to the studio ahead of Neil's arrival in Woodstock, to set up his kit, plus cameras and lights. We expected that Neil might have a case of nerves and we knew he liked Macallan whiskey so, as studio manager Mark McKenna reminded me, we brought out a bottle when Neil arrived the night before the sessions. But the only glasses we could find in the studio were pint glasses for beer. Neil proceeded to pour four "shots" of the Macallan, emptying the entire bottle in the four pints.
Bill Miller reported on the session for a cover of Modern Drummer Magazine. Having Bill at the shoot was great, as he had established a relationship with Neil and helped to make Neil feel relaxed. And in fact, we all were. When Neil left the studio on his motorcycle (his red BMW) when we wrapped, it felt like we had just finished a family weekend retreat.
Once the filming was done, we spoke with Neil regularly, and he weighed in on just about every creative aspect of the project, including the editing and packaging (for which he brought in Rush album designer Hugh Symes). He insisted we add a booklet. And he pushed us to use the highest quality boxed set packaging. Of course, he was right. He was always right! I came to learn of Neil's incredible intellect, incredible memory, his wide body of knowledge, his worldly experiences, his rock-solid honesty, work ethic, dedication to quality, personal loyalty, and kindness. And, of course, there was the i-word: integrity.
The resulting video, Neil Peart: A Work in Progress, went on to become the top-selling educational drum video of all time.
As time went on, we began talking to Neil about the next project and in 2004 we agreed to a new concept and the DVD that would eventually be called Anatomy of A Drum Solo that was released in December 2005. We used Neil's solo (titled "Der Trommler") as the focus of a discussion about technique and soloing. The solo was recorded and filmed at a Rush Show in Hamburg, Germany, in 2004. We used a beautiful studio outside Woodstock, New York, called Allaire, that was a compound on top of a mountain. Neil liked the studio so much, Rush went there to record their studio album, Snakes & Arrows, in 2006.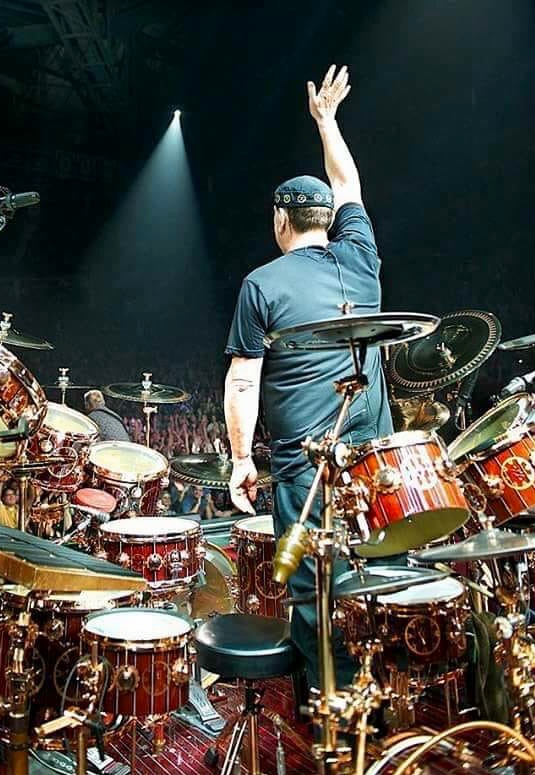 The Anatomy DVD took advantage of the DVD format and included camera-switching options, alternate edits, bonus audio tracks written by Neil ("Momo's Dance Party" and "Pieces of Eight"), live Rush performances of Neil's drum-cams on his monster kit, and interviews with Paul Northfield, Rush co-producer and engineer, and Lorne Wheaton, Neil's long time drum tech. There was also an optional commentary track by Neil during his solos, and the final product ran almost four hours long.
Our next project was Taking Center Stage: A Lifetime of Live Performance. In 2009 we started talking about "the next one" and promised Neil it would be interesting to him, meaning he would enjoy the location and the new team, which now included Hudson Senior Editor Joe Bergamini. (See Joe's words about Neil, below). Once we agreed on the main concepts for the project, we did the performance elements in May 2010 at the Drum Channel studio, as Don Lombardi graciously allowed us access to the entire DC and DW facility. Neil gave a behind-the-scenes look at the upcoming Rush 2010-11 Time Machine Tour. Beginning with a visit to his personal pre-tour rehearsals, Neil showed how he was preparing for the upcoming tour, producing more than six hours of content.
In July 2010 we filmed backstage at a Rush concert in Saratoga, New York, and did a time lapse of the setting up of the drumset. We also filmed the sound check, and an amazing backstage interview where Neil explained and ran through his warm-up routine. Neil went thru every song in the Time Machine set list (which included the entire Moving Pictures album). We included slow motion demonstrations, another interview with drum tech Lorne Wheaton (Gump). We needed to now record all of Neil's spoken parts — the explanations and commentary — and we agreed to film in various locations in Death Valley, California. We were able to do it just before the NAMM Show in January 2011. We met Neil in a small inn in the Death Valley National Park. It was an incredible couple of days that included filming in the lowest point in the northern hemisphere (warm, even in January) and at Dante's Peak (where it began snowing at over 5,000 feet). We had to wrap the filming up there because Neil had driven his motorcycle and, as temperatures began dropping, the mountain roads started to freeze. I worried he would skid out and became anxious thinking about what we would tell the world if that happened!
Once we reviewed all of the material, we decided to produce a book under the same name: Taking Center Stage. It is a complete analysis of Neil's drumming and is contains note-for-note drum transcriptions of 17 Rush songs that are included in the Taking Center Stage DVD. We also included a tremendous amount of color photos (I think it's the first drum book to have color photos in it).
Click here to read an article by Neil about the making of Taking Center Stage (pdf).
Despite those great (and collaborative experiences), Neil meant so much more to me than just a creative partner. For close to 30 years, I have considered him a friend. Even so, I used to say he should change his middle name to "Private." Neil cherished his privacy more than almost anything. The outpouring these past few days on social media has reaffirmed to me the vast amount of personal kindnesses that Neil quietly doled out: postcards of support, messages of comfort at great times of need or grief, letters of encouragement to friends, fans and folks he'd never met, visits to friends in hospitals. Nothing of the Rock Star life he could have easily slipped into. He used to tell me what a hard time he had saying "no" to people for just about anything, and in so doing taught me to only ask him for something when it was really important — and rarely, if ever, did he turn down a request from me for anything, either big or small.
We had a few crazy adventures together. Here is a link to a story Neil posted on his website blog to an extraordinary tale involving me – a story that took him 12 pages to explain, having to do with getting some very valuable items returned to him (through me) that had fallen off his motorcycle more than 10 years earlier. Click here to read Neil's account of the story.
Then there was the time when Neil asked if he could have his car (a beautiful limited edition Z-8 BMW) delivered to my house outside New York City ahead of our Anatomy video shoot. I actually got to drive it because the delivery truck could not make it around a corner and into my driveway. His plan was for me to pick him up at the airport, drive to my house, pick up his car, and then both of us drive to the studio outside Woodstock. And after the shoot, Neil planned to drive to Canada and spend some time at his home there. I told my kids not to go anywhere near the car for the several days it sat in the driveway. I could only imagine explaining to Neil that a stray baseball broke a window or dented the hood. Then again, he probably would have laughed about it…..
There were also the visits to "Bubba's Cave" in Santa Monica. I'd go to the NAMM show a day early and swing by Neil's "office" to have lunch or dinner and see the latest additions to his car collection. These were always really special times, getting to share his home away from home. He loved talking about the details of each car. He'd also update me on his latest goings on and the latest adventures with his daughter, Olivia. A few years ago, he told me how the favorite part of his day was going to her school to read to her class, followed by a few hours of filing books in the school library. He was SO happy being a librarian. This was Neil Peart… doing it his way.
It is difficult to express the impact Neil has made on my life on so many levels. He taught me about so many things, and his passing will leave a huge hole for me – for all of us. It is still difficult to process. For now, all I can say is, "Thank you, Bubba. I'll see you down the road…."
Rob Wallis
Owner, Hudson Music
---