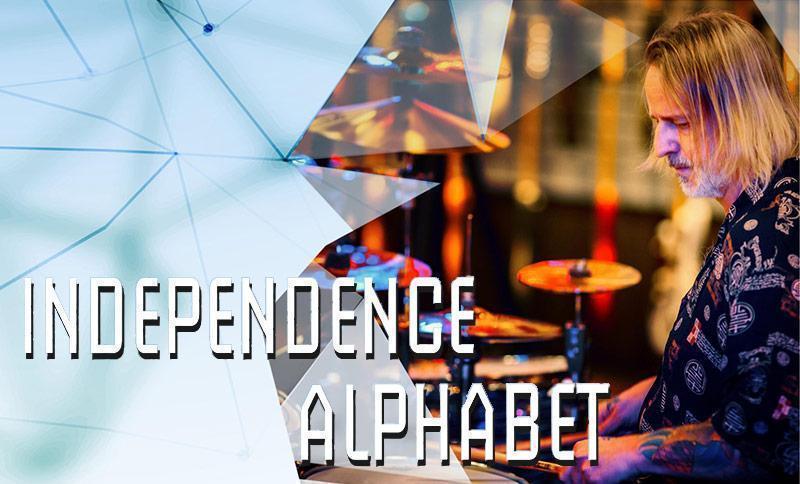 Independence Alphabet
A comprehensive workbook to contemporary drum set independence from multi-percussionist Pete Lockett.
Multi-percussionist Pete Lockett provides a comprehensive workbook to contemporary drum set independence with his latest book, Independence Alphabet. It contains 175 pages and hundreds of exercises to develop independence between the hands and feet on the drums. One of the most sought-after abilities for drum set players and percussionists is to play two or more completely different patterns simultaneously on different voices on their instrument. Whether a drummer playing interlocking patterns between hi-hat and snare or a conga player juxtaposing two rhythms on two drums simultaneously, this skill is a vital component of the percussive arts. Being able to execute these types of patterns is vital to a deeper understanding of the mechanics of drum set and percussion.
Independence Alphabet breaks the process of achieving this ability down into its simplest building blocks. Starting with one-beat components based on 16th notes, Pete provides a series of independence exercises between the hands, and then adds simple foot patterns beneath them. After the mechanics of a single voice are secure, he moves on to splitting each voice across two or more sounds and developing them dynamically with the use of accents. He then combines the patterns with various foot ostinatos, expanding from two-way independence to three- and four-way independence. All told, there are hundreds of independence ideas ranging from easy to advanced, creating a contemporary reference for limb independence on the drums that can be used for groove or solo approaches.
eBook | 174 Pages
Book Preview: