Jim Chapin: Songs, Solos, Stories
A truly entertaining, and historic, listening experience!
Jim Chapin: Songs, Solos, Stories, is a collection of audio tracks featuring drumming legend, Jim Chapin. As the title suggests, this is an audio journey with Jim, featuring a suite of entertaining and amusing songs written and performed by Jim; stories and anecdotes like only he could tell; and drum solos.
Included here are both Volumes 1 and 2 of the CDs. Originally released as two separate albums, we've combined them into one convenient download!
A truly entertaining, and historic, listening experience! Files are delivered via download as high-quality, AAC audio files.
Jim Chapin: Songs, Solos, Stories
18 tracks. Approximately 68 minutes playing time. Includes 6 page booklet with liner notes and lyrics. This initial volume features touching stories about Gene Krupa, Buddy Rich and the genesis of Jim's famous instruction book, "Advanced Techniques for the Modern Drummer."
Jim Chapin: More Songs, Solos, Stories
35 Tracks. Approximately 75 minutes playing time. Includes booklet with liner notes. A continuation of the audio journey with Jim, this edition features even more stories and anecdotes told by Jim himself. Listen to Jim's stories and observations about Elvin Jones, Tony Williams, Freddie Gruber, Bernard Purdie, Billy Cobham, Steve Gadd, Dave Weckl and many, many more of the familiar and great names of drumming!
About Jim Chapin
July 23, 1919-July 4, 2009
Jim Chapin was born in New York City in 1919. His father was James Ormsbee Chapin, an artist of the American Scene school of painting and his mother was Abigail Forbes Chapin, a teacher and writer.
Mr. Chapin did not begin playing the drums until he was 18 years old, after being inspired by legendary drummer Gene Krupa. He studied with the renowned rudimentalist, Sanford Moeller, and within two years he was playing opposite Krupa at the 1939 World's Fair in New York!
In the early 1940s, Mr. Chapin began working on a drum instruction book that was eventually published in 1948 as Advanced Techniques for the Modern Drummer, Volume I, Coordinated Independence as Applied to Jazz and Be-Bop. His exercises and concepts caused such a stir among drummers that he had to have a pair of drumsticks in his back pocket at all times in case he was called upon to demonstrate a particularly difficult passage and to prove that he truly could play every pattern in the book! Still in print today, it became known among drummers simply as "The Chapin Book" and is arguably the most important drum set text ever written.
All of the great drummers in the past 70 years have paid their dues with The Chapin Book, which is the much-imitated, standard work on the subject. In 1971, Mr. Chapin published Advanced Techniques for the Modern Drummer, Volume II, Independence–The Open End, a monumental undertaking that utilized overlays to illustrate its complex points. In the preface of this work, Mr. Chapin admitted that even he could not play every pattern that was presented, thus getting him off the hook of having to pull out his sticks on demand to prove that everything printed could actually be executed! Volume II was ahead of its time nearly 50 years ago and it is modern today!
From the 1940s through the 1960s, Mr. Chapin performed and toured with a variety of bands, including Glen Gray and the Casa Loma Orchestra and groups led by the likes of Mike Riley, Woody Herman, Tommy Dorsey and Tony Pastor. He also performed on occasion with his sons, Tom, Steve and the late Harry Chapin who was one of the top singer-songwriters of the 1970s and a founding member of the World Hunger Year. And he led his own bands well into his 80s.
Some of Mr. Chapin's techniques were captured on an instructional video first released in 1992 called Speed, Power, Control, Endurance, which is now available on DVD. Though most would expect the video to feature him playing complex patterns from his books on a drum set, Mr. Chapin spent the entire time on a practice pad, demonstrating the methods of his instructor, Sanford Moeller, of whom he was evangelistic about and to which he attributed his longevity as a drummer. It was Mr. Chapin's mission to get as many drummers as possible to utilize The Moeller Method to achieve the maximum results from the minimum effort, thus avoiding fatigue and injuries.
During the last 25 years of his life, Mr. Chapin found a second career, as he was discovered by a new generation of musicians that hungered for his depth of knowledge on drummers and drumming. He spent his time traveling around the world teaching and presenting seminars and he was a fixture at music trade shows and percussion conventions. He was a Pied Piper of drumming and all Mr. Chapin had to do was sit down at his battered and always handy practice pad anywhere in the world and a crowd of drummers would gather to soak in as much of what his long-time student, friend and confidant Dom Famularo aptly dubbed as "The Chapin Magic."
In 1994, Mr. Chapin received two honors for his contributions to music and education: the American Eagle Award, presented by the National Music Council in Washington, D.C. and a lifetime achievement award from the Berklee College of Music in Boston. And in 1995, he was inducted into the Percussive Arts Society Hall of Fame.
Through times of "here today-gone tomorrow" artists, Mr. Chapin was always there. During his lifetime, he observed, studied and analyzed every great (and not so great) drummer. He was there almost from the beginning of modern drum set playing and that will never happen again. Mr. Chapin was a master student in addition to being a master teacher and he epitomized the most important quality necessary for longevity in the music business: he would not grow old!
By Rob Birenbaum
May 2019
A Tribute to Jim Chapin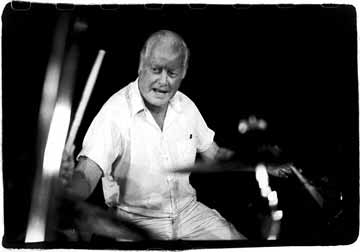 Jim Chapin (July 23, 1919 – July 4, 2009 ) was a well-regarded American jazz drummer and the author of two of the definitive texts on jazz drumming, Advanced Techniques for the Modern Drummer, Vol. I, and Advanced Techniques for the Modern Drummer, Vol. II. He was also the author of several albums (later converted to CDs) on jazz drumming, as well as 2 CDs entitled Jim Chapin: Songs, Solos, Stories (Vols. 1 and 2).
Jim Chapin was a student of Sanford A. Moeller, who invented and popularized the Moeller method. Jim taught this method of drumming to drumming greats such as Dom Famularo, Cesar Zuiderwijk and Thomas Lang, and to many other drummers over his 60-year career. Chapin was friends with legendary drummer and fellow Moeller method user Gene Krupa, and though not as widely-known as Krupa, Buddy Rich, or other era greats, he was well-known among jazz drummers, particularly for Advanced Techniques, which has been called "the definitive study on coordinated independence" for jazz drummers (coordinated independence being the practice of playing in separate times simultaneously).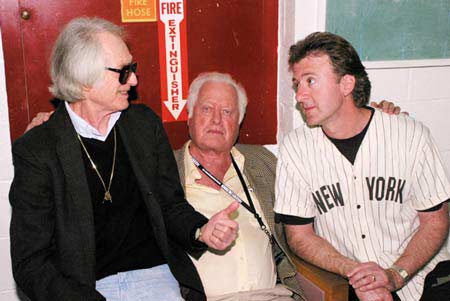 Freddie Gruber, Jim and Rob Wallis
I will always remember Jim holding court. Whether it was at a NAMM show, PAS convention, backstage at The Modern Drummer Festival, or doing a master class at Drummers Collective – he was always holding a pair of sticks (and usually a practice pad). He enjoyed nothing more than sharing information and his insight on the "right" way to hold the sticks, the way your wrist should work, the arms, etc., etc.

He was a perpetual teacher and liked nothing more than a good argument on technique from someone like Freddie Gruber. And Jim was always the gentleman.

And after sharing his thoughts on hand technique he loved talking about Gene and Buddy. He had stories that could fill a book. He loved music and loved talking about it.

Jim's mark on drum education will survive forever and I hope people will always remember his kind nature and his love of teaching, sharing and talking drums.

-Rob Wallis, Co-Owner – Hudson Music
Jim Chapin was a man on a mission. He held court at most every trade show that I attended for the past 25 years.

I spent many an hour with Jim refining my Moeller technique and talking about the great drummers. He made a major contribution to the advancement of modern drumming when he authored his instructional books. I went through Vol 1 when I was 12 years old and the coordination I developed during that time still serves me to this day.

I am grateful that I got to spend time with Jim. He gave his time and knowledge freely and I love him for that gift. His legacy will live on.

-Steve Smith
I first met Jim in 1969 here on Long Island. He was friends with my teacher Al Miller and we would go to see Buddy Rich perform backstage. Jim would tell me what Buddy was doing and analyze it to the slightest movement! My visit with the "Chapin Magic" started!

Jim was always so sharing with his hard earned knowledge. He simply taught the best drummers in the 20th century and was working on the 21st century. His books, CD's and DVD is a university of information….owning them all is a must!

I have learned from him, taught with him, performed with him and even played for him while he sang. He loved life and music equally. I am a better person for having experienced the "Chapin Magic!"

He was called the Father of drumming independence…how ironic of him to pass away on July 4th….America's Independence.

Jim will live long in his contributions…I ask the future generations of drummers to continue is seeking out the wealth of sharing Jim gave us.

Now on the 4th of July…look up at the fireworks and celebrate the magic of Jim Chapin!

– Dom Famularo