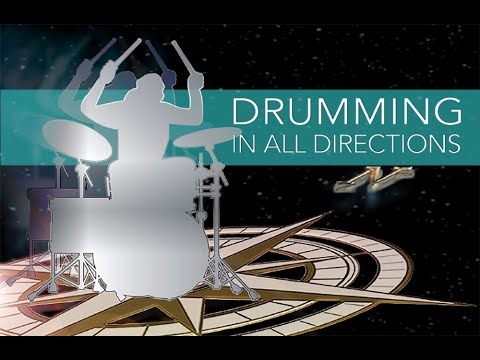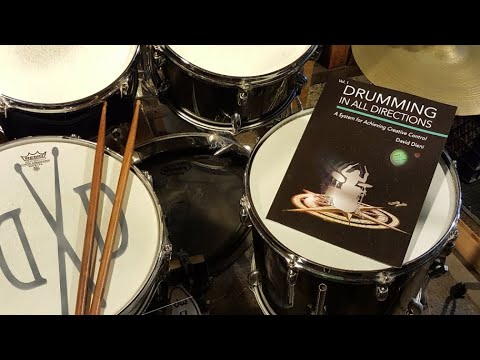 Drumming in All Directions
A System for Achieving Creative Control.
Frustrated with tackling coordination at the kit? Limbs tangling in the heat of battle? David Dieni's Drumming In All Directions is a whole new approach to achieving all-limb freedom and creative control. It's for drummers of all styles who want to reach the highest level of performing!
All-limb freedom is when our 4 limbs work harmoniously together to execute anything we want while playing. That's the goal, but all-limb freedom is often elusive for 2 reasons:
There's a gap or deficiency in our limb training.
There are 25 ways our 4 limbs combine into alternating motions. Every motion is important, but drummers often master a few at the expense of others. Practicing all 25 motions trains our limbs to work together in a relaxed, efficient way.
We're not using natural motion techniques for all limbs.
The natural motion techniques of free stroke and Moeller are about making relaxed throwing motions and using the rebound energy of stick or beater. The beauty of all limbs using these techniques? It equalizes them within a framework of fluid, relaxed movement!
See the problem? Our default approach to all-limb freedom is pattern coordination. If there's a deficiency in limb motion training and we haven't integrated the free stroke into all limbs, jumping in at that point leads to overall tension. Limbs fight each other instead of working together. All-limb freedom isn't even on the radar!
Drumming In All Directions solves the problem by starting at the beginning: integrating natural motion techniques into our playing using the free stroke to train our limbs with the 25 motions. It's a simple but powerful approach opening a whole new world of possibilities!
The key to Drumming In All Directions is the Limb Matrix- a progressive ordering of the limb motions. The motions are developed by a series of Control Workouts and Groove Solos, each based on a unique rhythm-melody. These elemental figures occur in all music. Finally, the limb motions are played with time keeping ostinatos to cover all the ways we play drums.
By combining fundamental limb motions with figures basic to drumming, your reflexes will be sharpened and tuned. You'll develop the muscle memory and playing experience for a solid coordination technique. You'll achieve a new freedom of expression that really is drumming in all directions!
About David Dieni
David Dieni a graduate of both the Oberlin Conservatory of Music and San Francisco Conservatory of Music. As a drummer and percussionist, his experience encompasses everything from rock to classical, jazz, and musicals.
During his time with the Sacramento Philharmonic, Stockton Symphony, Springfield (MA) Symphony and California Pops Orchestra, David has performed with Carol Channing, Dave Brubeck, Judy Collins, Sylvia McNair and Luciano Pavarotti.
He was in the West Coast revival of Jacques Brel is Alive and Well and Living in Paris at the Marin Theater Company; performed with Sharon McKnight in California Cabaret's production of Ruthless! and with Lee Meriwether in Happy End.
In 2011, Dom Famularo invited David to assist in creating the new, revised edition of George Stone's seminal Accents and Rebounds. The team of collaborators also included Danny Gottlieb and John Riley. The new edition was released on Alfred in 2012.
David has recorded for Koch International on the Ursula Le Guin/Eli Armer collaboration, Uses of Music in Uttermost Parts, and is a recipient of a Meet the Composer grant for his own music.
He maintains a busy teaching schedule at his SF Drum School, which has proved an active training ground for the next generation of drummers and percussionists.
David is a member of the Sabian Education Network and the D'Addario Education Collective (Promark, Evans).
Endorsements & Reviews for Drumming in All Directions
An extensive take on developing four-limb coordination from the ground up.
-Modern Drummer
DID is "a systematic approach to challenge your hands and feet with pushing the boundaries of creative expressive freedom!"
-Dom Famularo, Drumming's Global Ambassador
"… A refreshing addition to the many works of drum education already in print."
-Rhythm Magazine
"An extensive study of four-limb coordination. Those who are looking for an analytical, methodical approach to in- dependence will find this book especially interesting."
-Percussive Notes, Journal of the Percussive Art Society
Book Preview: